Post by Ron on Aug 25, 2008 11:10:01 GMT -6
This is a bit of info on Broadhead tip styles that will lead into a comparison of penetrating ability through soft tissue/hide based on different tip styles.
Broadheads come with a few styles of tips. All have some sort of an advantage, the main styles are:
1. Cut on Contact (COC) where the main blade and the tip are a singular and continuous piece of metal.
2. Secondary tips that are not part of the main blade, such as Trocar, cone, pyramid, etc.
Back in the day when everybody hunted with a longbow or recurve, Broadhead makers (who were also bowhunters) looked to maximize penetration and a lot of very long and slender heads came on the market. Howard Hill's head was an example. These long and narrow COC heads, with needle sharp points could penetrate hides with little effort. One such head is the Hilbre. This head was in my Dad's quiver back when I was a a boy and is a good example of the heads of that time.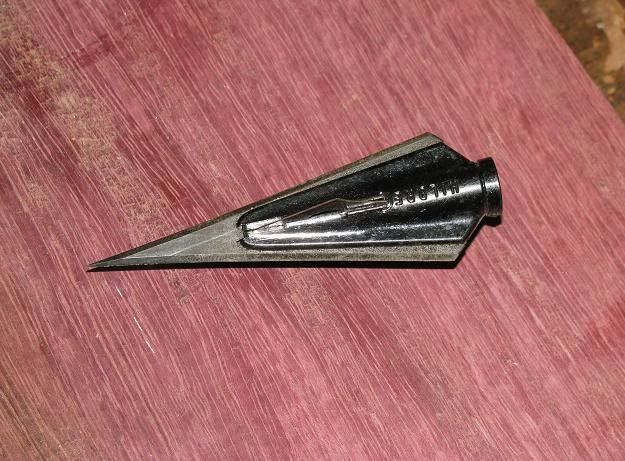 While these heads did a great job on hide and flesh, They were lacking when making a heavy impact on bone. The most common result was tip curl or breakage.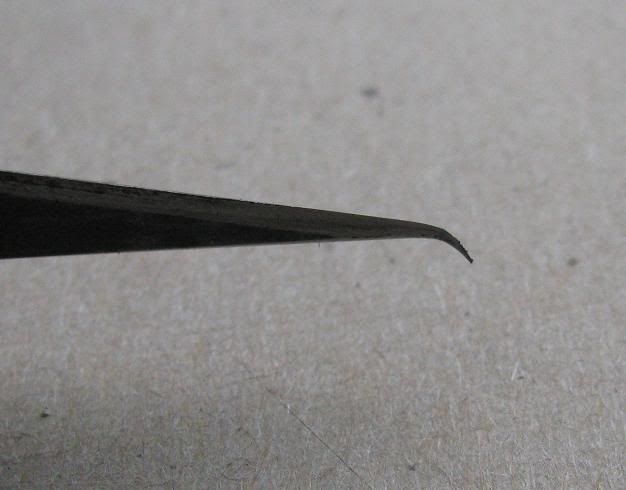 Many COC heads are made today but not with such fine and weak points.
Steelforce still makes long and slender COC heads but has changed the tip by adding a secondary angle to reduce tip damage. They did it by simply grinding a second angle but do not sharpen the second angle which creates a tiny flat spot on the edge of the tip.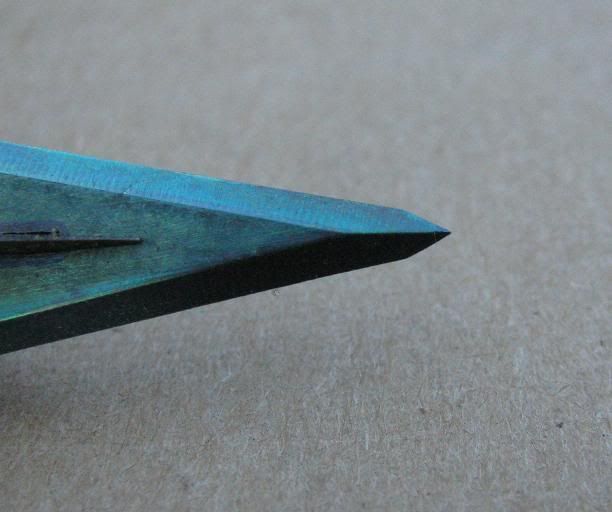 Other makers of COC heads, such as Magnus and Simmons are grinding a second angle but they are sharpening that 2nd angle.
Magnus
Simmons
Another way to get around tip curl is to make the blades out of thicker material. The German Kinetics, Silver Flames have done that.
G5 made the tip of the B52 thicker to reduce tip curl.
Three bladed heads have the advantage of an extra main blade to stiffen the tip such as the G5 Montec, Magnus Snuffer SS, Nap Hellfire and the Wensel Woodsman to name a few.
But even 3 bladed COC heads that are long and slender will suffer tip curl or breakage because of a long fine tip, such as this Razorcap head.